This major bridge rehabilitation project, estimated Contract Value of $28.5 million, is anticipated to begin in September 2014. The Birmingham Bridge Preservation Project will include the painting of the entire superstructure, steel repairs, bearing replacements, substructure repairs, light pole replacements and a concrete overlay.
Traffic will be crossed over and maintained on the bridge that carries Route 2085? over the Monongahela River in the City of Pittsburgh. Various overnight and weekend ramp and lane closures and possible detours will occur on several roadways in the area of the bridge.
Construction will conclude in Summer 2017. Visit the History & Bridge Details section to learn more about the history of the bridge and details about bridge traffic.
---
Bridge Entrance/Exit & Related Videos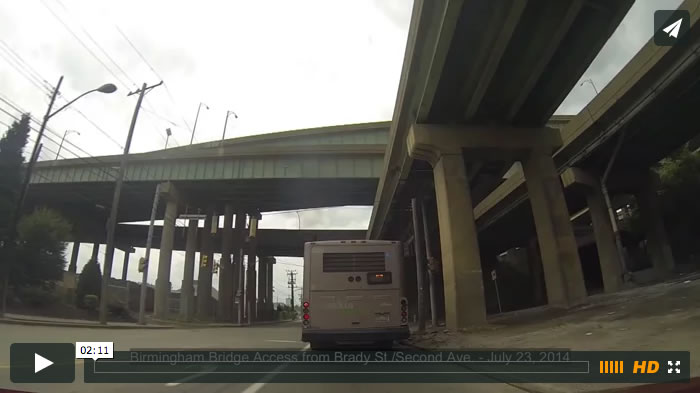 Scroll down to watch videos of existing access routes from E. Carson St. and Fifth Avenue sides of the Birmingham Bridge, as well as existing and alternative conditions in the project study area for the East Carson Street Safety Improvement Project.
PennDOT Traffic Cameras
Parkway Central (West to East):
Commonwealth Place, Fort Pitt Blvd, Grant Street, North Portal Liberty, County Jail, Blvd of the Allies, 2nd Avenue, Brady Street, Bates Street, Swinburne Street, Saline Street, Beechwood Blvd
Recent Press & Media Coverage
March 18, 2019 – City (DOMI) and PennDOT Begin Safety Improvements along East Carson Street
The City Department of Mobility and Infrastructure (DOMI) has contracted limited streetscaping work to be done from S. 10th to S. 25th Streets along East Carson Street in conjunction with scheduled pedestrian safety improvements to be performed by PennDOT. Construction will begin March 18, 2019 and is scheduled to be completed November 20, 2019.
October 25, 2018 – SR 837 East Carson Street Safety Improvement Project
Check out the video from PennDOT demonstrating the existing and alternative conditions in the SR 837 East Carson Street Safety Improvement Project study area from Smithfield St. to 33rd St. This approximate $12-15 million resurfacing project also includes signal upgrades, ADA curb cut ramp installation, and pedestrian safety improvements on E. Carson St. between Smithfield St. and 33rd St. in the City of Pittsburgh. Work is expected to begin in the Fall of 2018 and conclude late in 2019. Restrictions will vary throughout the corridor. Motorists should expect daytime, overnight and weekend work requiring lane restrictions and detours. The Department is coordinating final working hours and restrictions with the City of Pittsburgh.
---
SR2085 Schedule of Construction Operations
2014: Start of Construction, Containment, Blast/Prime, Steel Repairs
2015: Phase 1 – Painting, Structure & Steel Repairs, Latex Overlay
2016: Phase 2 – Painting, Structure & Steel Repairs, Latex Overlay
2017: Touch-Up Painting, Punch-list, Completion